Worship on Sundays 10:30am
Our Sunday worship is conducted by our own minister, by other invited ministers, by lay preachers or by our own congregational worship group. It usually takes about an hour and generally includes some time for quiet reflection. We like our services to be thought-provoking, reflective, inclusive and joyful, but also open to variations and to things new.
We celebrate Holy Communion on the first Sunday of every month and on high Christian festivals such as Easter and Christmas.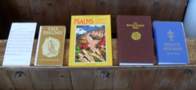 We use a relatively traditional Reformed pattern (Bible readings, sermon, prayers, hymns and other music) but with many variations and innovations, particularly time for meditation/reflection.
We enjoy the presence of children and young families and, for very young children, we provide a toy box in the church.
After worship everyone is invited to refreshments in our Centre for Reflection.
Evening services
In the summer months we occasionally offer evening services at 6pm instead of the morning service.