Worship on Sundays 11am
Our Sunday worship is conducted by invited ministers or lay preachers or by our own congregational worship group. When there is a minister in post, they lead worship generally about once a month. It usually takes about an hour and generally includes some time for quiet reflection. We like our services to be thought-provoking, reflective, inclusive and joyful, but also open to variations and to things new.
Since the beginning of the COVID 19 pandemic, Aston Tirrold has taken the opportunity to make use of the Zoom video meeting set up. We have found that Zoom is a practical choice for those unable to be out for whatever reason. This is our current worship monthly pattern (as of 19th December 2021):
1st 2 Sundays of the month or special services: hybrid i.e. in person in the church building and also available by Zoom. Those connecting by Zoom can see and hear the worship leader the church on one of the cameras. We make the following precaution statement: Please note: The church will be open but, if you have any concerns about your vulnerability or any doubts whether you are truly free of the virus, do please attend on Zoom. If you do attend in person, please take the usual precautions for your sake and for others: face covering (apart from medical exemption), spacing between households; and be prepared for the doors to be open for ventilation.
Remaining Sundays in the month: service are held entirely by Zoom
The Zoom link is sent to a regular church list. If you are missing this information and wish to find out the Zoom link, please make use of contacts page.
We celebrate Holy Communion on the first Sunday of every month and on high Christian festivals such as Easter and Christmas.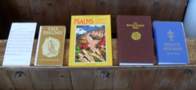 We use a relatively traditional Reformed pattern (Bible readings, sermon, prayers, hymns and other music) but with many variations and innovations, particularly time for meditation/reflection.
We enjoy the presence of children and young families and, for very young children, we provide a toy box in the church.
After worship everyone is invited to refreshments in our Centre for Reflection.
Evening services
In the summer months we occasionally offer evening services at 6pm instead of the morning service, but there are none planned at present.